Last updated on July 31st, 2022 at 11:32 am
Once you have been banned from AdSense, what should you do? You should not panic.  If you are not sure of the exact reasons why your account has been disabled, check the below article for detail or check out Google's FAQ page or forum. In general, they will not give you a detailed reason to reactivate Google AdSense. You can also contact Google's support team.
Following are the 5 website mistakes that can quickly get you banned from AdSense:
1. Pirate contents
2. Copyrighted contents
3. Clicking own ads
4. Paying someone to click your ads
5. AdSense loading services
6. Bot clicking on your ads
Policy Violations like Illegal, Abusive Material etc is also one of the main reasons for which you can get banned from AdSense.
Detail of some of them is as follows:
Invalid click activity
The number of invalid clicks on your website may be the biggest concern for your advertisers. If you've recently had your ads disabled, you might be wondering why. Well, you're not alone. A study of 72% of AdSense accounts revealed that most of these accounts had been disabled for invalid click activity. Invalid click activity can result in an account being suspended for several reasons.
Following are the main forms of Invalid Click Activity:
Clicking your own AdSense Ads
Repeated clicks / impressions by any of the user from your traffic
Encouraging your traffic to click on the ads
Ad placements causing large number of clicks
Multiple Accidental clicks
Cyber Attacks or Automated Clicks by robots, click bots, traffic etc.
Use of Software to generate clicks
Secondly, invalid click activity can be caused by inactive traffic on a site which can get you banned from AdSense. If you do not have a website, you should use another method for monetizing your site.
How to Fix Invalid Traffic in Google AdSense? 10 Best Solutions/ Check here
Many publishers have reported problems with invalid click activity by using low-quality ad networks, search engines, and directory sites. If you want to earn more, you must monitor your invalid click activity and make changes accordingly to avoid getting banned from AdSense.
Check out our article and product here to avoid making this mistake.
Abuse
The adblocking software adblockers have been growing in popularity is one example of how the advertising industry has been abused. Until advertisers get more bang for their buck, criminals will continue to use advertising as a vector for fraud and infection. Unfortunately, Google has been alerted to the abuse of its ad platform. Therefore, its AI automatically bans such videos. This is also one of the main reasons for getting banned from AdSense.
Illegal content
If you've ever wondered why certain websites are banned from AdSense program, you're not alone. Google has strict policies in place that prevent you from monetizing illegal content, as well as excessive advertising, and sites made just for ads. For example, if your site is in Turkey, general traffic will be primarily from Turkey. However, if your traffic is primarily from the United States or China, you'll probably get banned from AdSense, too. So what can you do to prevent your site from being banned from Adsense? The key is to avoid posting links and content to such websites, which Google considers to be objectionable.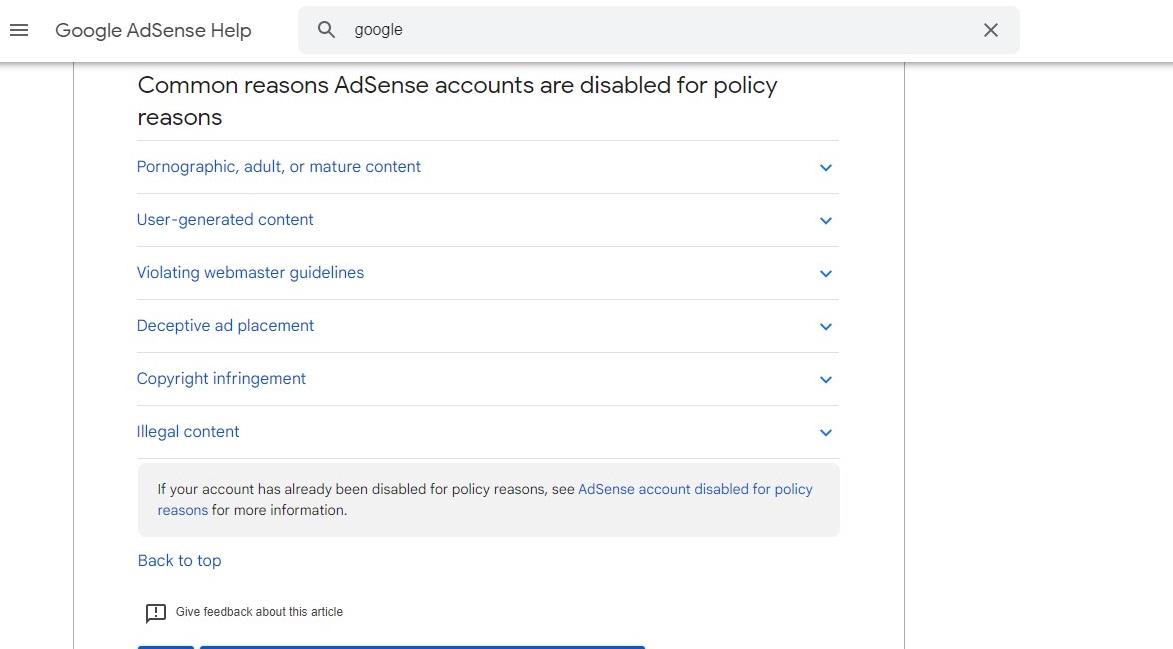 While pursuing your AdSense earnings, it is important to remember that Google is strict with their policies. If you publish illegal content, Google will remove it. The site you're trying to advertise will get blacklisted if it doesn't meet their standards. You can also get your site banned by promoting copyrighted products.
Violence
One example of a site that was banned from AdSense for its violent content is Sahara Reporters, a Nigerian government watchdog site. The website published graphic photos of police officers stomping on a protestor and pulling down their pants. These pictures violated the ban on "violent content" from Google, which does not allow for context or explanation. So what is the best way to get around the ban?
In addition to this, adult content, copyright material, selling drugs, tobacco etc. are also the reasons of account ban.
How to Reactivate Google AdSense
It is easy to get your account back once you follow some basic steps. You can verify your publisher ID and appeal Google's deactivation against being banned from AdSense. You can even transfer your publisher ID to another email address. Just follow any of these these steps to get back on your feet and start earning money again.
1. Follow Google AdSense Policies
If you are banned from the AdSense program, there are some ways to get your account reinstated. First of all, you must follow Google's AdSense policies. You should not use sketchy traffic sources, use invalid traffic prevention measures, or rely on bots to click ads. Invalid traffic is a major reason why Google will suspend your account. This happens to many digital publishers, so you should monitor your site regularly and take action before it's too late. Google will analyze your ad click and impression patterns to determine if there are suspicious activities or content on your site. If you've used auto blogging or other unethical methods to generate traffic, your account may have been banned from AdSense.

First, you should stop using call-to-action labels to reactivate Google AdSense account. AdSense will immediately ban you if you use them. Another practice that's a problem is using pop-up scripts on your site. These require readers to click on AdSense before they can view the content. And finally, you should avoid linking to illegal websites. These practices are not only illegal, but they can also get you banned from AdSense. Check this link for detail on Google Policies.
2. Appeal to Google if you are banned from AdSense
You can appeal Google's deactivation of your AdSense account in case you've violated a policy or have been subjected to Invalid Click Acitivity. To appeal, simply provide your name, email account, publisher ID and the website URLs on which you place ads. If your appeal is successful, you'll receive a response from Google in a matter of days or even a few weeks.
You can appeal to AdSense team regarding Invalid Click Activity by following this link
You can appeal to AdSense team regarding Policy Violation by following this link
The best way to appeal Google's deactivation of your AdSense account is to provide data substantiating your ban. Also, if you want your account reinstated, you must provide traffic log data and server data. Find out our article on the tips for appealing to Google AdSense.
Check our article on How to Complete Google AdSense Verification Check? 2 Approved Tricks
3. Sign up for Another Account
To reactivate Google AdSense account, the next best option is to sign up for another account. Creating another account may seem like an easy solution, but Google has become very savvy at catching banned publishers and will shut them down as soon as they catch them.
You need to make sure you have some other options in case your account is banned again. Another viable option is to make business account on Google. The difference is only that your payments will be paid to your company's name.
4. Google AdSense Alternatives
There are a lot of Ad Networks out there which are a great choice in case your account gets banned from AdSense. Their RPM and CTR are also up to the mark with a lot less restrictions than Google AdSense.
When deciding between AdSense and other ad networks, you need to look for quality publishers that provide relevant content and a strong ad fill rate. You can make money from these alternative networks by including relevant advertisements on your website. So, there is no need to worry about monetization of your site if you are banned from AdSense.
Which are the High Paying 16 Best Google AdSense Alternatives? Find their information and full comparison on table here
5. Use VPNs to reactivate Google AdSense
The best VPN for AdSense is one that not only provides you with a secure connection but protects your privacy as well. Using cutting-edge traffic encryption, a VPN will prevent any third parties from tracking your online activity. Google does not directly ban the use of VPNs, but they do have the right to do so if you use a dishonest VPN. Through VPN, you can make a new Google account if your old one gets blocked.
NordVPN, ExpressVPN, PureVPN and CyberGhost VPN are some of the best options for using with AdSense. Do not use low quality free VPNs as they will get you banned 100%.
Check out our product to never have your Google AdSense Banned due to invalid Activity